Received June 7, 2010
Peter Wolfe
6 Balsam Lane
Falmouth, Maine 04105
email:   [email protected]
Family
I married my wife Chris in 1995.  We have a daughter Isabel, born in 1997.  I also have a daughter, Heidi, from my marriage with Chris Imhof.  Heidi lives in Freeport Maine, near her mother.
My brother Richard, also WHS class of 1960, lives near Toronto, Canada with his wife Diane (Leucke).  He has 2 sons, and a one-year old granddaughter.  Richard is on the faculty at the University of Toronto and does a lot of traveling for consulting work, mostly to South and Central America.
My brother Thomas lives in Madison in the Highlands, next door to Tom Link, and a short walk to Tom Stafford's old house.  He has 2 children, ages 12 and 18, and is retired.
My sister Ann lives on a farm in Ridgeway, Wisconsin.  Her two children are grown.  Since the death of our mother Hjordis, Ann has become a surrogate grandmother for my daughter Isabel.
Education
I received a BA in mathematics from the University of Wisconsin in Madison in 1963, and an MA in mathematics in 1965. I worked as a Geophysics Department research assistant while I was an undergraduate and then as a Mathematics Department teaching assistant. In my second year of college the University acquired its first transistorized computer and I learned to program it. I have been programming computers since then.
Employment history
I worked for eleven years as a computer programmer and manager of other programmers at the University of Wisconsin Computing Center. In 1976 I moved to Maine and began work as an independent programmer and consultant, work that I have continued to this day. Almost all of my work is done from my home office. I have had lots of interesting assignments including several at the World Bank in Washington.
WHS Classmates
I have been fortunate to have close friendships and many great adventures with several members of our class – Steve Plater, Tom Stafford, Monroe Woollard, Jim and Jane Henkel, and Peter Heebink (who was in the class behind us).  I miss Steve and Jane a lot and think of them often.
Current Plans
After living for 15 years on a lake western Maine, we moved last fall to a suburb of Portland.  Isabel was starting middle school and the schools are much better here.  And her dance school is nearby, as is the company where I do most of my work.  We continue to enjoy outdoor activities when we can, especially camping, skiing, and ice skating.
I expect to continue work as a programmer at least while Isabel is in school.  And while my good health continues (knock on wood), I will lead an active life that includes modern and ballet dance classes, skiing, skating, jogging, and maybe some windsurfing. When time permits, I like road trips.  And reading!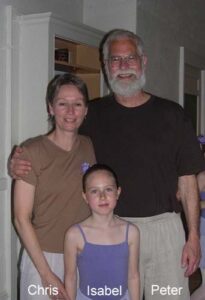 Wisconsin High School
55th Reunion – July 24 – 25, 2015
BIO:        Peter Wolfe
Received:           June 27, 2015
When I last reported in we had just moved to Falmouth, a suburb of Portland, Maine.  We have been happy and busy here.  My daughter Isabel just graduated from high school, turned 18, and started her first summer job.  In the fall she goes off to college.  This will probably lead to changes for me and my wife but we have no plans as yet.  We still enjoy living in Maine even after another cold and snowy winter.  I am working nearly full-time.  I no longer take dance classes but still do some skiing, skating, jogging, and just the other day, windsurfing.   I have had good visits with classmates Tom Stafford, Jim Henkel, and Monroe Woollard in the last year or so and am looking forward to the reunion.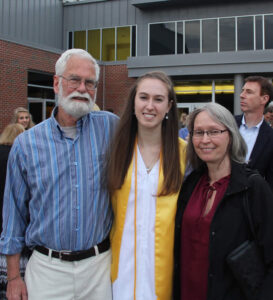 Wisconsin High School
60th Reunion – September 17, 2020
BIO:        Peter Wolfe
Received:  August 16, 2020
I am still living in Falmouth Maine on the edge of Portland and am still working as a computer programmer.  All my work is done through the computer in my home office.
My daughter Isabel graduated from college in spring of 2019, then worked at the Hospital for Special Surgery in Manhattan for a gap year.  She moved back with us in March and worked remotely.  Now she is still with us and starts medical school at Cornell Medical School in Manhattan on August 17.  She will be living with us through the fall since the first semester of school is unfortunately virtual.
We have no immediate plans to change where we live and the work we do but it will not be long before we make changes.
I keep in touch with Tom Stafford and visit him when I can when he is in Montana.  I also correspond a bit with Jim Henkel and get lots of interesting emails from Howard Beale.
I am attaching a recent photo of me and my wife Chris at our 25th wedding anniversary dinner on August 5.
Very Best Wishes,
Peter