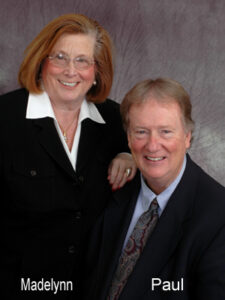 Received June 9, 2010
Retired from IBM after 30-year career in variety of jobs. 2 yrs each Dean Witter and State Farm – financial product sales. Currently in Real Estate with Carefree Realty in Sarasota, FLA
Significant other: – Madelynn Drimmer – we have spent a wonderful 17 yrs together; 12 years in Sarasota, FL; She is truly my best friend and soul mate.
Divorced- from Kay Eberman in May 1995 after 30 yrs marriage
Son – Brian born 8/21/64 – spouse Margaret Covert; lives in Newton, MA; CEO Avenue 100 Media Solutions, Woburn, MA; MIT BS & PHD Robotics; two daughters – Cate born 3/18/1995 and Clare born 8/19/1998
Son – Doug , born 3/11/67, lives in Rochester , MN ; MIT grad math & comp sci; worked for Intuit – QuickBooks printer software
Son – Kevin , born 12/7/71; lives in St Paul, MN – grad UW Materials Sci, MIT PHD Materials Sci; Product Mgr, Battery Div, MMM; two daughters – Saskia 3/4/2002 and Freya born 3/22/2007
Dog – best dog ever – 8th – a very affectionate Shih Tzu named 'Woofer' now 10; gives me incentive for 3 walks per day.
Madelynn and I love attending the many cultural activities Sarasota offers: theater, jazz, classical. Madi is an avid bridge player who has attained Diamond Life Master status (5000 master points). We have played together for 17 yrs – she teaches bridge professionally. We love to travel – this year almost a trip a month – a bit excessive. Our favorites are family visits, cruises, bridge tournaments, NC mountains, and the coast of Maine
I love to sing and have been fortunate to have two ladies that play old standards and let me sing at our CC. I play a bit of guitar and piano. We hold sing-a-longs at our house. We display the chords and lyrics on our big TV so the guitar players and singers don't have to fuss with the music – mostly folk and some old rock songs for these events.
All my WHS teachers and coaches made permanent memory impressions. Spent many memorable times with my buddies: Pete Lillegren, Stan Peckham, and Perry Schultz – bowling, water skiing, and cruising the local bar haunts. Pete and Stan were college roommates for senior yr. I know many West HS grads and hope to connect with them also.
Playing basketball even as a bench player was a lot of fun – particular the Saturday league practice games. I had a chance to connect with Pete Wolfe at his Maine lake home a year or so ago – still the same guy – remarkable condition – modern dance with his spouse seems to be his secret.
It was great to go to school where you know every person reasonably well – I look forward to our 50th reunion.