From 2005 Reunion:
I'm hoping to retire this year from work in the dosimetry department at Diablo Canyon Nuclear Power Plant. I am divorced, living in Morro Bay Ca. where my children and grandchildren also reside.
Parents – deceased
Sister – Valerie, retired from a long career as an occupational therapist, raised her 2 children in Madison and then moved to Pennsylvania where she is currently recovering from some pretty major leg surgery.
Brother – Ed, who went to Monona Grove High, retired from the phone company and has 2 wonderful daughters and a great wife. They live in Madison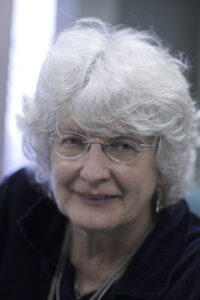 One of the guys I work with here at the big bad Devil's Canyon, had his camera at work and I asked if he would take my picture to add to this menagerie. I look at it and cannot believe that is me. I say to myself, woman, you have walked the road of life, and then I turn to the reunion website and see that we all have. How totally amazing! How interesting it would be to delve below that weathered surface and reveal the real substance behind us all. So here we are.
After college my road started in California, teaching elementary school at Vandenberg Air Force Base, where I met my husband and we had our first of 2 children. We then moved back to Madison. Bob became a machinist working for the UW right across the street from good old Wisconsin High. For me, it was career change time after 15 years of teaching. I went into real estate sales and loved it until we moved back to California in 1980. Yikes talk about expensive property, poorly built homes and tiny lots! Add that to 18% interest rates and an overpriced community which offered few jobs. I just couldn't do it. In '83 I hired on at Diablo Canyon Nuclear Power Plant as a janitor making more money than the professors at Cal Poly University. What a blast. Life settled in after that. Bob became a maintenance foreman at Diablo and I eventually ended up as an electrical apprentice. Then downsizing hit and I ended up in the dosimetry department where I still happily reside. It's a living, a good company and good people. During this downsizing period the unhooded axe man came stealthfully into Diablo and axed Bob. Bob had a nervous breakdown and ended up trading me in for a younger model. Wooo-be. I had my job, the house, and decided to ride things out.
Our daughter Brook who was driving a tanker in Los Angeles at the time had a 3 year old son and moved in with me here in Morro Bay. She did not want to raise Bud, her son, in L.A. She opened a day care out of my house and then married a maniac. They had a wonderful daughter Crystal, just before her then husband, beat Brook to a pulp and she had him thrown in jail.
So back to getting a second chance, for me, at raising children… until 2003 when Mike came along, that is. Now in the house with me, we have Mike & Brook, Brook's 2 kids, Mike's 2 kids, the 14 day care kids, 5 dogs, and 4 cats and then they added 6 chickens. Enough already, it's a 2 bedroom 125 year old home Oh and did I mention that my ex and his wife bought and moved in the house next door? Actually that worked out really well. ! I moved out in August of 2005.
I am now under the cloud of house payments once again, and living in oblivious peace in my nice modular home, in a Mobil home park about a mile from the rest of the family. Brook and her gang, rent the house from me. My son and his wife live about 25 miles away. I work long and many hours here at Diablo. The grandkids visit often, and I am close with my own kids, and have some very wonderful friends. Family, friends and good old Wisconsin work ethics have value to me. I am divorced and looking forward to hopefully retiring this year and just taking some time to find out who I am apart from the past. I have a saying up on my computer here at work which says "the indispensable first step to getting the things you want out of life is this: Decide what you want." ( Ben Stein )
I still have that to do. So with piss and vinegar still coursing through these old veins I bid you all a due. I hope to see you at the next reunion.
Katy
Oh and my memories of Wisconsin High. Ugh! I graduated early to get out of that place.
Katy Taylor
Received July 13, 2010
WISCONSIN HIGH 50TH REUNION
I am still working at Diablo Canyon Nuclear power plant as a dosimetry clerk.  It is a good job that I can handle, with good people and good benefits.  With the economy as it is, I just keep hanging in there and also hoping, still, to retire soon.
A month ago everything changed.  I stopped at a local Bargain house (i.e. second hand store), which was going out of business and ended up buying the business.  My daughter, son-in-law and I have formed a corporation calling the place "Victory Bargain House".  Victory is my (WWII baby) middle name, which is also my daughter's and grand daughter's middle names.  It is a family run business.
I  cancelled my  plans for my August  vacation in Wisconsin and have dived head first into the new business. So many new doors have opened.  I guess my life does not end 50 years after H.S. graduation.  It begins again with taking yet one more leap.
The new picture of me in the Victory Bargain house was taken yesterday 7/12/10 by my granddaughter.