George F. Schlotthauer, 78, Bradenton FL, passed away peacefully on June 26, 2021 with his family by his side. He was born to the late George M and Elizabeth (Franklin) Schlotthauer in Madison, WI. Survived by wife of 57 years Carolyn (Rusch) Schlotthauer of Bradenton FL. Survived by one son William George (Christina) of Lakewood Ranch, Fl. Also survived by a daughter Kristina Lynn Iavarone (Jed Price) of Tampa, FL. He is survived by a sister Jane (Jim) Jeffries of Richland, Center, WI. George was a proud grandfather and is survived by 5 loving grandchildren, Eve Iavarone, Hailey Schlotthauer, Rocco Lavarone, Grace Schlotthauer and Blake Schlotthauer. All his grandkids called him "Gumpy" as his special name.
George was a corporate pilot for 30 plus years and had many opportunities to meet world renowned people. He also enjoyed the places to which he was privileged to travel. He was an avid outdoorsman who enjoyed boating, hunting, fishing, golf and many more. He was man who loved being with family. His Family will be having a private Celebration of His life at later date. Memorial donations may be made in his honor to Tidewell Hospice Inc., 5955 Rand Blvd., Sarasota, Florida 34238. Brown & Sons Funeral Homes & Crematory 26th Street Chapel is in charge of arrangements. Condolences to www.brownandsonsfuneral.com
Carolyn Rusch & George Schotthauer
Received June 5, 2010
An update on the Schlotthauers;   After graduating from WHS, I attended Lawrence  College in Appleton for two years and then returned to the UW where I majored in psychology.  George spent a year at Hobart College in NY and then returned to the UW where he majored in meteorology.  We married in 1964.  George worked for Morey Airport in Middleton where he obtained his commercial pilot's license and I attended the UW graduate School of Social Work for two years.  We built a home on the west side of Madison and had two children,  Kristina in 1969, and William in 1973.
George began a series of corporate flying positions, and I was the Activity Director for a private nursing home for the next 15 years.  I then took the position of driver coordinator for the Retired Senior Volunteer Program.  George's last flying position transferred him to Florida where the owner's company flew all over the country setting up drug testing programs for large corporations.  This owner was particularly generous in allowing me to accompany him on may flights which was wonderful.
The children were in out-of-state universities at this time,  so our move to Florida in 1993 was well timed. Our home in Jupiter was on a canal so we took up boating with our neighbors and loved this new life and climate.  Kristina had moved to Tampa to go to USF, graduated, married a local boy, and had a baby.  Then William married, went to Law School in New Orleans, and had a baby as well.  He then took a position in Sarasota.
George decided to retire after 35 years flying, and in 2000 we moved to the west coast of Florida to be close (but not too close) to the children and grandkids.  Kristina has a girl and boy and Will has two girls and a boy. We feel fortunate to be so close to them as they grow up, and that they are growing up together.  We built a home in another boating community and have spent many weekends on our boat with our friends.  It is a very active place to live.
George did not care for retirement  very much and so a couple of months after we settled into our new home he took a job with a high-end yacht manufacturer and brokerage.  He is now semi-retired which leaves room for boating, fishing, and his new passion – twice a week golf games!!  I have been retired since we moved to Florida, but keep busy with many neighborhood activities. I love to read and belong to the monthly book club, babysit when needed, and volunteer at the local food pantry weekly.  Of course there is always work outside in this climate as well.
We visit Wisconsin (when the weather's nice) infrequently to see my 98-year-old stepmother and George's sister Jane (WHS '57) and her husband who live near Richland Center in the summer.
We love to travel and have visited most states as well as many National Parks.  We have gone on many trips with the Yacht Brokerage as well.  This past summer we celebrated our 45th wedding anniversary with a three-week river cruise from Amsterdam to Vienna.  Spectacular!!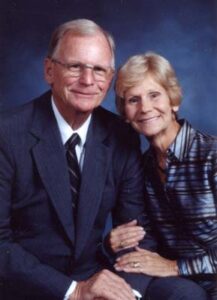 June 2015
Wisconsin High School
55th Reunion – July 24 – 25, 2015
 Not much news here, but George is fully retired now.  We have sold the big boat and many of the old group are no longer boating, but we still get together quite often socializing.  The 2 oldest grandkids are now driving, so obviously they are getting older, as are we.  We still enjoy travelling and went on a river cruise to Eastern Europe.  We then went on a trip out west to visit nine National Parks.  Last year we went to Alaska.  In between, we take shorter trips, including those to visit my step-mom and George's sister Jane.  We are going again this July 4th for Louise's 103rd birthday, so will not go up again this year for the reunion.  We hope everyone has a good time.