Fritz Wolff
Received July 13, 2010 
WISCONSIN HIGH 50TH REUNION
Fritz studied at Northland College and at the University of Wisconsin. He apprenticed under world famous Ceramicist Robert Eckels. Fritz started his own businesses, The Wimbledon Collection and Stone Fence, in 1970. The Wimbledon Collection and the Stone Fence are known world wide for excellence in design and quality.
Fritz's work includes high quality porcelain dolls. He has received many of the top design awards in the world, several times over. Hand made glass and steel works, and table top accessories are other areas in which he has become famous. Now in semi-retirement, Fritz is concentrating on his hand thrown stoneware. Unique design and high quality continue to be his hallmark.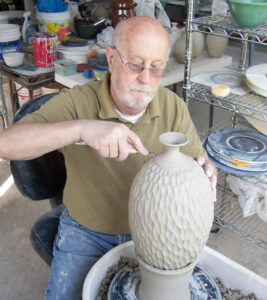 June 2015
Wisconsin High School
55th Reunion – July 24 – 25, 2015
For an update on Fritz, he says:  Please go on my website www.stonefencepottery.com and you will find out what I am up to these days.