Updated June 11, 2010
Wife – Karen Jenke
Son – Karl, b1976, lives in Minneapolis St Paul area.
Son – Scott, b 1979.lives in Los Angeles and works in production of TV programs.
After graduating from WHS I stayed on campus and received a degree in Chemical Engineering, worked for General Mills in Minneapolis, went to University of Chicago for an MBA degree, squeezed the Charmin for Proctor & Gamble in Green Bay, and in 1971 became part-owner and President/CEO of Intek Plastics in Hastings, Minnesota. Under my watch Intek grew from one plant and 25 employees to three plants and 375 employees. The company became nationally known among wood window and door manufacturers for it's innovative line of weather strips and window tracks. I retired from Intek in October 2003.
Since retiring I have been doing some business consulting and volunteer work. Karen, my first and only wife of 42 years, and I enjoy traveling. We have been able to take at least one international trip a year for the past 20 years. We have had many great experiences including seeing in person seven heads of state.
We have lived in Prescott, Wisconsin, a town of 4,000 about 35 miles southeast of the Minneapolis/St Paul airport, for 36 years. Our home is on the scenic St Croix River We enjoy the small town friendliness but are grateful that it is only a short drive to big city amenities.
I remember taking bets on how long Peter Pauley would last in Mr Mock's math class before his bad behavior got him thrown out. Peter's behavior changed very quickly when JG said "no math, no football".
Brother – Philip, attended the UW while the Viet Nam demonstrations were occurring, became a back-up police officer for Shorewood Hills so the regular police could fight with the demonstrators. This piqued an interest in law enforcement and after receiving his Chemical engineering degree J. Edgar Hoover appointed him an FBI agent. For most of his career he worked the Palm Springs CA. area. He is now retired and living with wife, Nancy, in the Denver area.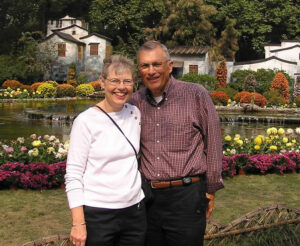 Updated June, 2015
The biggest change is the past five years is the addition of our first grandchild.  Sydney is 3 years old and is the only grandchild on both sides of the family.  Unfortunately, she lives in Los Angeles and we only see her in person 3or 4 times per year.
I continue to do what I want to and most of what Karen wants me to do.  I keep busy serving on some corporate and civic boards, exercising, taking some senior courses offered by the University of Minnesota and traveling.  We have been using our passports at least once a year.  We enjoy the four seasons that Wisconsin provides—although winter can be too long.
Best wishes to everyone.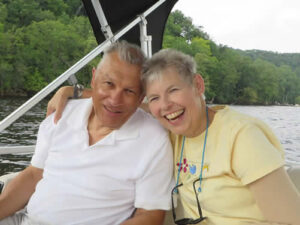 Wisconsin High School
60th Reunion – September 17, 2020
 BIO:       Franz Altpeter
Received:  September 7, 2020
This year Karen and I are celebrating 52 years of marriage, 46 years of living in Prescott, WI and 17 years of my retirement.  Considering our age, we are in good  health.
Covid has changed our lifestyle.  All of my activities –traveling, attending classes, mentoring small business leaders, exercising at the YMCA, attending board meetings and lunching with friends have been canceled or replaced by Zoom.  I have enjoyed renewing contacts with WHS classmates while updating WHS1960.net and helping plan the virtual reunion.
Sadly, 3 years ago our oldest son, Karl, died suddenly when a chunk of cholesterol broke loose and plugged an artery to his heart.  Also, Karen's brother died 6 weeks ago from Covid.  Covid is wicked.
Sydney our 8-year-old granddaughter who lives in Los Angeles is a joy.  The threat of Covid has not permitted traveling to LA.  Our visits are limited to Facetime.
Stay well.