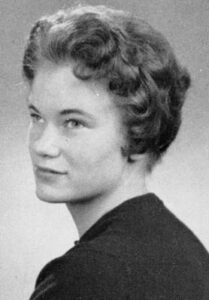 Obituary
MADISON – Ann C. (Elkow) MacLeod, age 59, died peacefully on Tuesday, Sept 24, 2002, at home with her family by her bedside, following a long battle with cancer. Ann was born on Nov. 12, 1942, in Manhattan, N.Y., the daughter of J. Duke Elkow and Madeline E. (Chambers) Miller. She graduated form Wisconsin High School in 1960, attended Oshkosh Technical School for one year and received her CMA certificate from Madison Area Technical College. Ann married William "Bill" Macleod on June 8, 1990. She retired from Rural Insurance Company after 22 years. In 1993. Ann went to work for Dean until the time of her death. She was a wonderful stepmother, grandmother and great-grandmother.
Ann enjoyed camping, playing cards, Indy car racing, and spending time with her stepchildren, grandchildren and great-grandchildren.
She is survived by her husband, Bill; 10 step-children, Joyce (Charles) Spilde, William "Sonny" (Randi) MacLeod Jr., Daniel "Danny" (Lori) MacLeod, Roger "Rick" (Pam) MacLeod, Jo (Dennis) Day, Betts (Ronald) Odegard, Diane (John) Podebradsky, Mary Lou (Steve) MacLeod, and Michael "Mike" (Penny) MacLeod; 22 grandchildren; 10 great-grandchildren; her father, J. Duke Elkow of Florida; a brother, Jo (Barb) Elkow of Connecticut; two step-brothers. James Miller of California, and John (Sue) Miller of Madison; three brothers-in-law; many nieces, nephews, other relatives and friends; and her cat, Misty.
Ann was preceded in death by her mother, Madeline; a brother, Rick Elkow; step-father, Durward J. Miller; maternal grandparents, Mimi and Martin Chambers; paternal grandparents, Katherine and John Elkow; mother-in-law, Ethel MacLeod; father-in-law, William MacLeod; and a brother-in-law, Jerry MacLeod.
Funeral services will be held at GUNDERSON EAST FUNERAL HOME, 5203 Monona Drive, at 7pm on Friday, September 27, 2002. Visitation will be held at the funeral home from 5pm until the time of service on Friday. A special thanks to HospiceCare and some very special neighbors.
Ann will always be remembered for her thoughtfulness.
Gunderson East Funeral Home 96080 221-5240.