Wisconsin High School
60th Reunion – September 17, 2020
BIO:     Aaron Abramovitz
Received:  September 13, 2020
Dear WHS classmates, It has been 60 years since we graduated from Wisconsin High School and our world has certainly changed. Perhaps some of you remember me as a skinny kid who was obsessed with dueling interests in both music and science. Both interests have played an important role in my journey. While at WHS, I wandered into a pharmacology lab at the medical school with questions and was assigned a project there.
My passion for the science led to summer lab jobs then and through college. I left Madison to attend Lawrence College in Appleton. A few semesters in the conservatory of music convinced me that a career in school music wasn't for me and I graduated from the college with a major in psychology. However, my clarinet studies continued privately and I played in college ensembles. By the time I graduated from college, I was determined to pursue a life in music as a clarinetist. College ended and the summer of 1964 brought another lab job, clarinet studies in Chicago and the looming challenge of Vietnam.
A position in the National Army Band seemed like a reasonable way to continue my musical journey but a week before a final audition in Washington I had a bicycle mishap and broke my wrist. Nine months went by, my wrist healed but not so much my youthful hubris. I sought a lab job and ended up with a graduate fellowship in endocrinology at the medical school. A job opportunity with a former lab boss led me to Ann Arbor, Michigan. Within a year I enrolled in a Ph.D. program in Biological Chemistry at the University of Michigan. It was in Ann Arbor that I met and fell in love with Andrea Savage, a doctoral student in sociology and social work. We were married in Brooklyn, NY in 1970. This December we will mark our 50th anniversary.
After four happy years in Ann Arbor, we moved to Baltimore where I had an immunology research fellowship at Johns Hopkins University School of Medicine. Our first child was just a toddler and we remained in Baltimore for four years, where he attended kindergarten. Andrea worked for the State of Maryland in a Child Abuse and Neglect Prevention Project. A medical school faculty position led us to New Jersey in 1978. Andrea also found her way into academia and a faculty position at the Hunter College School of Social Work.
After nearly a decade teaching medical and dental students and struggling for grant money to support my lab I left academia for the biotechnology industry and eventually landed in vaccine research at Wyeth. I spent twenty years working with infectious viruses and retired at 65…twelve years ago. Andrea continued her teaching and research and finally retired last summer after thirty-eight years on the School of Social Work faculty. We've raised two children, albeit one at time. Our daughter is 18 years younger than her brother. He lives in Brooklyn with our daughter-in-law and two grandchildren and works in public radio in NYC. Our daughter is newly married and works as a PA (Oncology) at Northwestern University Hospital in Chicago.
A few years prior to retirement, I "rediscovered" my clarinets and removed the dust from the cases which had remained in my closet for thirty years. I found a teacher and pursued serious studies. I have been very fortunate to enjoy a second life as a musician, including performing in small opera companies, an orchestra tour to China and a semi-professional chamber music group (sometimes we get paid, sometimes not.
With current pandemic, life is different. We have been self-quarantined since March. We became proficient at ordering groceries and everything else on-line for home delivery. Live music gigs have disappeared and we have turned to other pursuits. Andrea has been making glass beads for several years, so I built a studio in the garage for the lampwork process of making glass beads. Being obsessed with new skills has been a good way to compensate for the isolation of quarantine. I've even learned to make some glass beads myself. Much communication can be done on-line via zoom, skype, etc. So, we have lessons, religious services, gym sessions and other conversations. It's still not a substitute for direct human contact. We're hoping to outlive the constraints. Meanwhile, our quarantine mini-poodle is now six months old and very attached to us. Aaron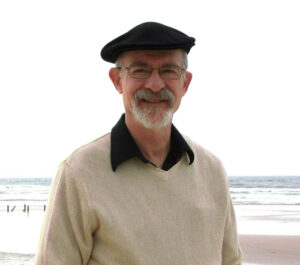 2015 Photo